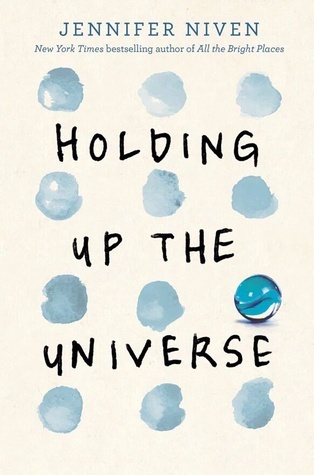 Obtained: Purchased at Chapters
Pages: 400
Publish date: October 4, 2016
Rating: ★★★★
I love when bookstores do the thing when they stock the book before it's technically released.
So last year, I fell in love with Jennifer Niven's first book, All the Bright Places. When I found out she was writing another YA novel, it rose to the top of my "Want to Read" list. And then the other day (actually, yesterday), I found it sitting on the shelf at my favourite bookstore. Needless to say, I bought Holding Up the Universe and gobbled it up in a day.
Holding Up the Universe is about a girl named Libby who used to be America's Fattest Teen; many people know her as the girl who got stuck in her own house and had to be rescued. Now that she's lost a lot of the weight, she is ready to go back to school. The other protagonist, Jack, suffers from face-blindness – a disorder that means he cannot recognize faces, including his family, or even himself. He constantly feels as though he is in a crowd of strangers, even in his own home. But he compensates for that by remembering people's identifiers and embracing the fact that his own identifier is often 'douchebag'.
I was a little bit nervous going into this book due to the subject matter – if approached incorrectly, this story could have been offensive or cliche. But this novel is neither of those things (at least, to me). I actually found myself relating a lot to Libby. I never earned attention because I was too big, but I was often bullied by people who had simply decided upon first glance that they didn't like me. And Niven captures those feelings really well.
The writing was very emotional, which I'm glad to see carried over from All the Bright Places. I loved reading about these two characters going through their own issues and finding comfort and support within each other. I also enjoyed the numerous references to nerd culture (Supernatural, Game of Thrones, Doctor Who)!
I could go on about this book, so I'll stop here. But basically, if you were a fan of All the Bright Places, or if you like books by Rainbow Rowell or John Green, I highly recommend you dive into the world of Niven's writing. Because she is incredible, and I can't wait to see what she writes next.
Holding Up the Universe is available online at Chapters Ingido, Book Depository, and Kobo.