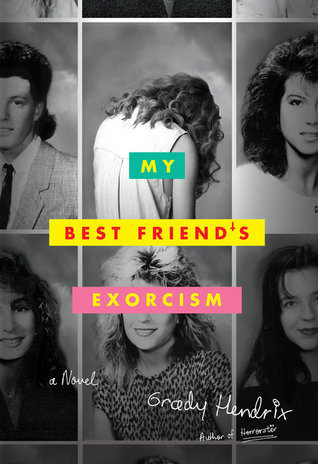 Obtained: Quirk Books, ARC
Pages: 336
Publish date: May 17, 2016
Rating: ★★★★
When I heard Grady Hendrix, author of Horrorstor, was going to be coming out with another hilarious and terrifying tale, I knew I needed it immediately. Horrorstor was easily one of my favourite, if not my absolute favourite, book of 2014 and the hype I created for myself about My Best Friend's Exorcism was so real. Well. I was not disappointed.
My Best Friend's Exorcism is about two high school besties in the late 1980s and how one night of experimenting with drugs and skinny dipping results in one of the girls getting possessed by a demon. The book builds Abby and Gretchen's friendship since they met in fifth grade and then puts this friendship to the test as Gretchen's possession becomes too much for anyone to understand.
The things I love about this book are copious. I love how Hendrix is able to create this world that you can so easily relate to, and then turns it into a terrifying story with disgusting descriptions of Gretchen's possession and the impending exorcism. I find this makes it scarier, because something so terrible is happening to typical people, instead of being set in some world where everything is creepy and the characters are just asking for something weird to go down.
I also love the style of writing, and how Hendrix created such realistic characters. Each girl in their group of friends was built as an individual with her own issue, and not just another girl in the group that is interchangeable with any other girl. Even though the adult characters were all so easy to hate, they were also developed quite well.
The 80s slang was on point. The fact that each chapter was titled after an iconic 80s song kept the light, casual tone throughout the book, even when things got scary. If you say you didn't hum all of the 80s tunes in your head throughout the book, you're lying.
My Best Friend's Exorcism was a wonderful balance of fun and disgusting terror. If you loved Horrorstor as much as I did, or are looking for something light and slightly disturbing to read, I suggest you pick this one up.
My Best Friend's Exorcism is available online at Chapters Indigo, Book Depository, and Kobo.