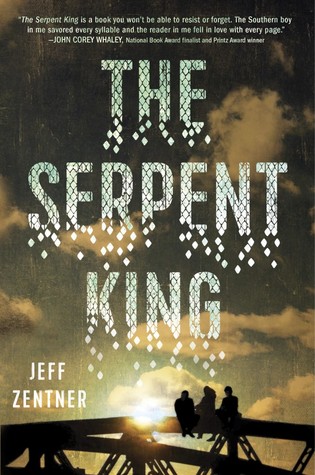 Obtained: Penguin Random House Canada
Pages: 384
Publish date: March 8, 2016
Rating: ★★★★★
When I picked this book up, I had no idea what I was going to think. But book lovers everywhere were raving about it, and I knew it was one of the releases I couldn't miss. The Serpent King was one of those novels that I picked up and could not put down. Literally. I picked it up, and read it all day nonstop until it was over. And when it was over, I got depressed that there was no more.
The Serpent King is told from the perspectives of Dill, Lydia, and Travis – high school seniors and best friends living in Forrestville, Tennessee. Each of these teenagers has their own opinion about living in such a small, conservative town, understanding their individual struggles and doing whatever they can to cope with them. Dill is forced to live with his father's name, after the minister was arrested for possession of child pornography. Lydia is a fashion blogger with dreams of escaping and attending NYU in the fall. Travis is addicted to fantasy novels and online forums about his favourite series, wishing this was the world that was real, and not the one where his brother is dead and his father abuses him.
The characters in this book were so strong and real, I loved reading about them so, so much. Zentner created this group of dynamic kids that were so deeply imagined that I felt like I was spending my time reading with a group of my own friends. The stories he weaved about these characters were both heart-wrenching and hopeful, creating an overall beautifully captivating book that I refused to let leave my hands until it was finished.
I believe I'll spend a lot of time raving about this book to my friends and recommending it to every book-lover I know. The Serpent King is probably one of my new favourite books of all-time. Incredible.
The Serpent King is available online at Chapters Indigo, Book Depository, and Kobo.