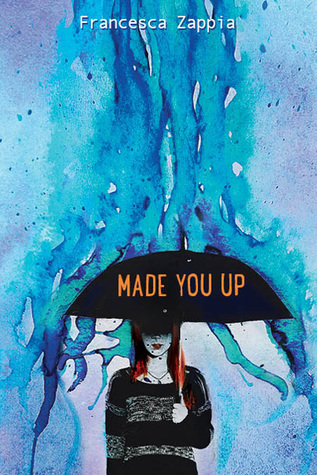 Obtained: Gift
Pages: 427
Publish date: May 19, 2015
Rating: ★★★★★
I was captivated by this story as soon as I saw the cover of the book and its title. I read the back of the book and got a very general understanding that Made You Up was about a girl with a mental illness who wasn't sure if her friend was imaginary or not. As you can imagine, I asked my family for this for Christmas, and ended up flying through it in two days. It was amazing.
Made You Up tells the story of Alex, a girl who has schizophrenia. After having an incident at her first high school, she ends up moving to a second high school where she comes across someone familiar – a friend she once met as a child. A friend who her mother convinced her was not real. Alex and the boy, Miles, get to talking and Alex tries to figure out whether or not her reality matches up with everyone else's.
The most obvious thing I can mention about this book given the summary is the fact that I really enjoyed its twists and turns. Alex is the most convincing unreliable narrator because she is so genuine. It's not as though she's twisting the truth on purpose – she merely can't distinguish her paranoid thoughts from the reality of the world around her.
Alex is also extremely funny. It's not funny to laugh at her inabilities, but the girl has a sense of humour that I found very comparable to my own. I laughed out loud at her one-liners on more than one occasion. The imagery in this book is also stunning; despite the beautiful cover, Zappia creates a story that fills your head with Alex's shockingly red hair, and Miles's blue eyes. I imagined every moment in this book as vividly as a film playing in my head.
Francesca Zappia's novel will keep you wondering the entire way through. I could not put it down. Originally, I gave the novel 4 stars on Goodreads, but given time to think more about the book, I realize it deserves a 5/5. It's been weeks and I'm still thinking about it. I even want to re-read it. If you're a fan of books such as All the Bright Places (Jennifer Niven) and Everything, Everything (Nicola Yoon), I recommend you try Made You Up.
Made You Up is available online at Chapters Indigo, Book Depository, and Kobo.