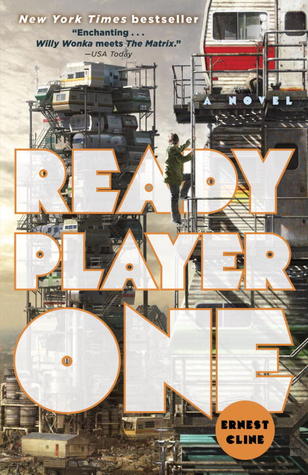 Obtained: Purchase @ Indigo
Pages: 372
Publish date: June 5, 2012
Rating: ★★★★★
I read and loved Cline's newest book, Armada, and knew immediately that he was a talented sci-fi writer, whose biggest book I had yet to read. I didn't understand a lot of the disappointment Armada was receiving until I read Cline's first success, Ready Player One. Ready Player One is definitely on another level of literary work, and I'm so glad I read his books in the order that I did, because I was not let down at all.
Ready Player One takes places in a dystopian world not so far in the future, where a desperately poor Wade Watts, and mostly everyone else, hide away in the virtual reality game called OASIS, created by a man called James Halliday, who ended up with billions of dollars because of this creation. When Halliday dies, a video he filmed reveals that there are 3 hidden Easter eggs in OASIS and the first person to find and unlock all of them will be the heir to his fortunes. Wade spends literally all of his time adventuring through OASIS to find the eggs and change his life completely.
This book. I don't even know where to start expressing my love for this book. Cline has built a fantasy world within a dystopian world, in a way I have never seen done so creatively before. The characters and their development are dynamic and real throughout the book. The story keeps your mind racing, and has so many layers, you don't know what to expect next. I couldn't put this book down. It was incredible.
One of my favourite things while reading were the 1980s references. As a fan of 1980s pop culture, Halliday used a lot of these references while planting the eggs throughout the game. Classic video games from the 80s, bands, movies, TV shows – everything is mentioned in this book. As a fan of 80s culture myself, I loved seeing titles of some of my favourite movies and bands pop up, and the references Cline made that I didn't recognize made me want to investigate further.
Ready Player One is one of the most creatively written books I've ventured through in a long, long time, and if you like books that build a world that you can open up the pages and crawl right into, I really recommend this one.
Ready Player One is available online at Chapters Indigo, Book Depository, and Kobo.