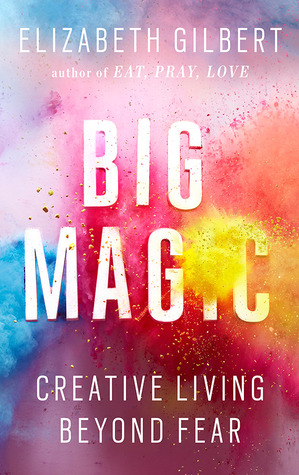 Obtained: Penguin Random House Canada
Pages: 288
Publish date: September 22, 2015
Rating: DNF
So this is only the second time I've ever reviewed a book I didn't finish, but I write these reviews because I have something to say about why I didn't want to finish the book. I was so excited to get my hands on a copy of Big Magic; I've been anticipating this book since July and finally got a chance to read it. I think I just expected something different, so when I started to read, I was a little let down.
Big Magic talks about the fact that people should find their inner creativity and not be afraid to let it out. Simple as that. What I expected from this book was some address that creativity is sometimes intimidating to explore, and how we can learn to push past that fear to create, even if we don't identify as "artists". It started off promising. Gilbert's writing style is easy to read and very casual, so I was fairly entertained reading the first half of this book. I had my highlighter as I read, and was marking down some inspirational passages about being brave and letting yourself shine through your art, whatever that means to you. But I got to the second chapter of this book and Gilbert totally lost me.
The second chapter is about "Enchantment" and finding your ideas, but instead of using facts or studies or proof, Gilbert launches into a story about how ideas are conscious entities that float around and look for a person to make them manifest. I thought this was a metaphor, but it's not. The book continues on like this, and I couldn't take it seriously. I myself am the kind of person who needs factual evidence and would have appreciated research to show how people can be more creative and how being creative helps exercise our brains, or helps us live longer, or lead more "fulfilling" lives. But this book was extremely opinion-based, and Gilbert relies on the idea of "her more logical friend believing in this, too" as proof enough – which it isn't, for me.
There is also a segment about how post-secondary education in art is a waste of time and money, which irked me. I have a Bachelor of Arts, and I don't regret the debt I'm in for one second, because it was four years that taught me how to be analytical and helped me to find my passion and be a better writer. Gilbert takes a very strong stance against post-secondary educations for art, and I feel like if it's something you want to do, you should do it, and not take such strong, personal life advice from someone who doesn't know your individual passions.
Big Magic mentions in the very beginning that "creativity" doesn't have to be creating art, and Gilbert tells a story about a friend who picked up skating at the age of forty, and it helped her feel free and happy again, which is wonderful. It's what I expected this book to talk about. Yet halfway through, that was the only mention of exploring creativity that wasn't about someone who wanted to "be an artist". I hope that bit comes back up later on in the book, because it would be nice for someone to relate to this book who doesn't identify as "an artist" but would like to paint or write for fun.
Ultimately, I put the book down for those reasons, but that's just because it wasn't my cup of tea. I'm an artist (writing, photography, graphic design), and I hoped this book would help me to further appreciate creativity and how exploring your creative side is relevant to a human life, but this wasn't that sort of book.
Gilbert's writing style is quite fun and if this is your sort of topic to read about, you'll definitely enjoy it. I just didn't.