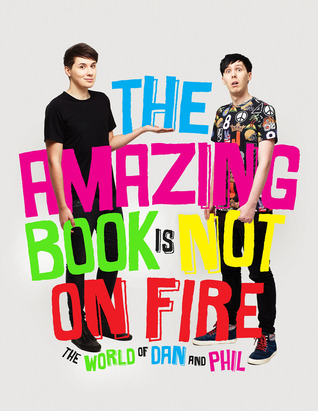 Obtained: Penguin Random House Canada, ARC
Pages: 224
Publish date: October 8, 2015
Rating: ★★★★
I have been a watcher of Dan Howell (danisnotonfire) and Phil Lester (AmazingPhil) for what feels like forever – at least, since I started watching YouTube videos. These two Brit boys are very funny; whether it's their vlogs, sketches, or let's plays on their gaming channel, I'm always left entertained. The fact that they're so awkward and genuine in their videos is why they have over 8 million subscribers combined. So they wrote a book, and I knew I needed it in my life.
When you turn the cover of this gorgeous, colourful hardcopy, you're greeted with a number of scrapbooky pages, leading into a few pages of an introduction on the two YouTubers and a brief overview of what their school lives were like. They definitely understand their reach is mainly teenage girls, and know just how to relate to this core audience (even though I'm in my 20s – everyone is a teenage girl when they flail over their fandoms… or I guess Phandom in this case).
There are a lot of beautiful graphics in the book as well as never-before-seen photos, and pages referencing to your favourite YouTube videos (12-Year-Old Dan's Website, anyone?). Dan and Phil's channels have a wide variety of types of content, and so does this book. Which had me skipping pages at some parts. maybe I wasn't so into hearing about how they met One Direction, or understanding their biggest fears, but when I got to hearing a little bit more about their Japan trip, or talking about their gaming channel, or how to start your own YouTube channel, I couldn't put it down.
But like I said, they're very funny and play well off each other, so I really liked things that highlighted their sense of humour: fanfictions about each other, a Dan and Phil manga, and text conversations they've shared. I could hear their voices as I was reading these moments, and I laughed a lot. It was also very apparent to me just how much they appreciate their fans. Clearly a lot of work was put into this book (graphically, I emphasize – YouTube is a visual medium, and this book is gorgeous), there is an entire page of fan art (which is amazing), and they write a very lovely thank you to the fans on the last page of the book.
If you're a Phan of Dan and Phil, I highly suggest you pick up a copy of this book. You'll relive some of your favourite YouTube moments and learn a bit more about the people behind the screen. It's a definite must-have for any fan of their YouTube channels.
The Amazing Book is Not on Fire is available online at Chapters Indigo, Book Depository, and Kobo.