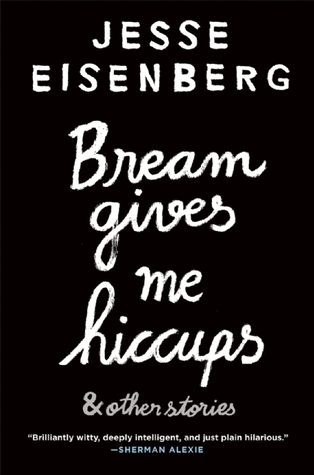 Obtained: Penguin Random House CA, ARC
Pages: 256
Publish date: September 8, 2015
Rating: ★★★★★
After having some more experience with the genre of short stories, I've come to the conclusion that I really love them. And I couldn't go without having Jesse Eisenberg's new collection of stories on my shelves, so I was really excited to get the chance to be able to review it for the blog!
Bream Gives Me Hiccups is a smart collection of short stories that I couldn't put down if I tried. The topics in this collection span from dating, to family, to my absolute favourite part, which kicks off the entire book, the restaurant reviews of a nine-year-old boy. The stories/chapters are all fairly short, which made it easier to get sucked into ("oh, only four more pages, I can get through that before I go to sleep!").
Each story, regardless of what section it is in, is quick-witted, very well-written, and incredibly smart, as well as entertaining. I found each story to be making some sort of comment about society, or people, or politics, which I thoroughly enjoyed. The stories were often portrayed with a fairly dark undertone, such as my favourite as mentioned earlier, wherein you get the story of this family from the view of a young boy. The boy sees things fairly straightforward, but the reader is able to grasp heart-wrenching and uncomfortable subtexts from his perspective.
I can't recommend this book enough, honestly. I was about fifty pages in when I decided it would be getting five stars from me. Fans of BJ Novak's One More Thing (Stories and Other Stories) will likely find this book to be just as enjoyable.
Bream Gives Me Hiccups is available online at Chapters Indigo, Book Depository, or Kobo.