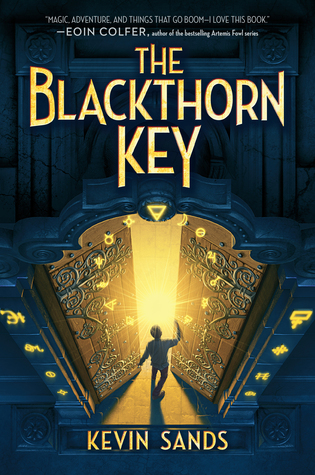 Obtained: Simon & Schuster CA, ARC
Pages: 384
Publish date: September 1, 2015
Rating: ★★★★
I was given a copy of The Blackthorn Key by Kevin Sands without having any idea of what it was about. It is Sands's debut novel, and it looked a little fantasy from the cover. But when I saw that it was a middle grade book, I was really excited; there's something about young fantasy that intrigues me more than adult fiction fantasy. Maybe it's the fact that it reminds me of Harry Potter. Well, this book definitely had a Harry Potter vibe to it that kept me turning the page at all costs.
The Blackthorn Key is about a young boy called Christopher who is an apprentice for an apothecary. He loves solving puzzles and learning recipes for the most dangerous concoctions. But when a cult begins to attack London's apothecaries, Christopher is called upon to try to get to the bottom of this mystery and get hold of the power this cult is seeking before it falls into the wrong hands.
I picked up this novel having no idea what I was getting into, and the next thing I knew, I was halfway done. The only reason I put it down was because I had to leave my house and go to the Ontario Book Blogger Meet-Up. Otherwise I could have read all day. I was so caught up in Christopher's world and the mystery that Sands had created. And given all of the potions and medieval references, it really did feel reminiscent of being totally immersed in a Harry Potter novel. But I don't want to compare the two too much.
Blackthorn doesn't live in magic and fantasy – it lives in 1665 London, where people believed in humours controlling the body and willing them away with potion-medicine. It was extremely captivating and I loved feeling as though I was in this mystery with Christopher, Master Benedict, Tom, and the rest of the wonderful cast of characters. It was definitely a wonderful read, and I can't wait to see where Sands goes in the future with his writing.
The Blackthorn Key is available online at Chapters Indigo, Book Depository, and Kobo.