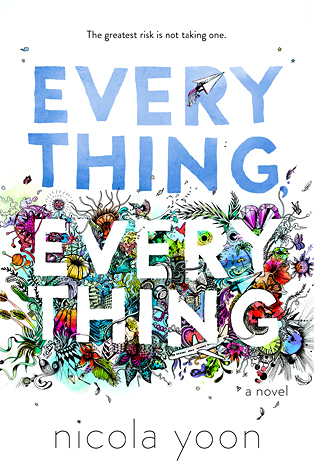 Obtained: Random House CA, ARC
Pages: 320
Publish date: September 1, 2015
Rating: ★★★★★
I was initially told that this new YA novel by Nicola Yoon was just as the title promised: Everything. Well, I didn't need anyone to sell me on this book. The cover page was beautiful and the tagline caught me immediately – The greatest risk is not taking one. As a saying that really struck me as something I could stand to learn, I was always infatuated with this book. I actually put it off for so long because I knew I would love it and didn't want it to be over. And I was right.
Everything, Everything tells the story of 18-year-old Madeline, a girl who suffers a disease called SCID, which basically means she is allergic to, well, everything. She is confined to her sterile house where she lives with her mom and sees her nurse every day, but otherwise, she is cut off from the outside world. Then a family moves in next door and she begins to email the son, Olly – a boy wearing all black in her world of sterile white, and she sees how much she has really missed being locked away in her house all these years.
This book was so captivating, I couldn't put it down. If I had the choice, I'd have read it all in one sitting. Besides the beautiful and heart-wrenching story, Yoon has structured the novel in a way that is more than just "okay, onto the next chapter…", she writes as though this is Madeline's journal – even a scrapbook sometimes – as the "chapters" are very short, and often include drawings, charts, IMs, or postcards. It was just lovely to read and see what would come up on the next page.
I was worried Yoon's characters would be predictable or flat, as I find happens often in YA novels recently, but this was not the case here. Madeline and Olly both have interesting back-stories relating to their families and their lives up until this point, and their characters seem pretty real. Of course some unrealistically amazing things happen to them, but that's fiction in general – what's the point of writing a story if that story isn't amazing?
One other point I find that I should mention is that I LOVED the diversity in this book. Finally, a romantic YA that isn't full of white people! Spanish, black, Asian, gay, straight – this novel covers a variety of cultures and personalities, and I really appreciated that fact. It added to the book's realism and of course, contributed one more step to overcoming this issue we seem to have in our society.
This novel took a turn I didn't expect, and my heart was with these characters every step of the way. As much as I don't want a sequel, because I prefer stand-alone novels, I sort of want a sequel just to spend more time with this lovely story. Everything, Everything is a beautiful novel that is well worth your time to sit down and read – and even re-read.
Everything, Everything is available online at Chapters Indigo, Book Depository, and Kobo.