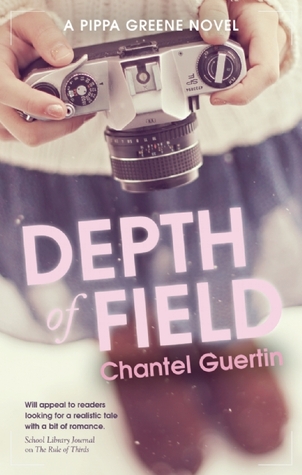 Obtained: ECW Press
Pages: 200
Publish date: August 12, 2014
Rating: ★★★★
After having read Rule of Thirds (my review here), the first book in the Pippa Greene series by Chantel Guertin, I was really looking forward to reading the sequel. I'd been proven that this story was something special, and I was excited to see how the characters I loved from the first novel would grow in this novel.
Depth of Field differs from Rule of Thirds because, as the title suggests, I found it to be a lot deeper. The story wasn't simply Pippa trying to achieve some physical prize; instead, she found herself on a journey for information about the people in her life, those in her photography classes in New York, and her family members. She spends her two weeks in the city finding out who she is and the history behind her love for photography.
I much preferred this method of storytelling to the first novel, which seemed to be more typically YA. The photography references in this novel were plentiful and made my little heart soar as I imagined all of the wonderful studio work and travelling images Pippa was able to capture. Guertin is very detailed in her descriptions of Pippa's photography, but as a photographer myself, I sometimes wonder if these references go over everyone else's head…
The theme of this book's title is riddled throughout the book: literally, in her classes, and more figuratively, as she continues to learn to look for the unexpected aspects in the people who surround her. I wish some of the new characters had been looked at as deeply as the returning characters, but overall, I'm satisfied with the new insights I gained into the history of Pippa's family and friends that I thought could have been expanded upon in the first novel.
If you love photography or YA lit, I recommend this series. I cannot wait to read the next one!
Depth of Field is available online at Chapters Indigo, Book Depository, and Kobo.