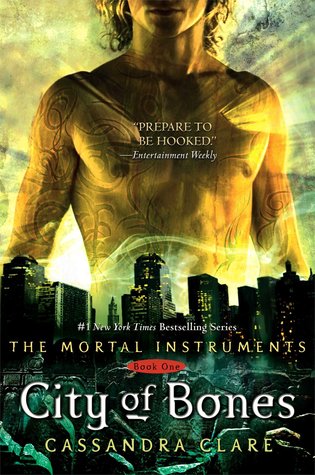 Obtained: Purchased @ Indigo
Pages: 485
Publish date: January 1, 2007
Rating: ★★★
I don't know how much detail I have to give with introducing this book; I'm pretty sure a lot more people are familiar with it than me. The Mortal Instruments series is already completed, has a spinoff trilogy which is also completed, a movie adaptation, and is now being turned into a TV series. Even if you don't know what it's about, I'm sure you've seen the covers all over the YA sections of bookstores. It's not just a thing… it's a HUGE thing.
City of Bones tells the story of Clary Fray, a teenage girl who finds herself wrapped up in a strange world of fantasy when she meets Jace and the Lightwoods – a family of Shadowhunters. Clary unveils the true happenings of her past as she and her friend Simon accompany these demon killers on a number of dangerous adventures, ultimately trying to find the Mortal Cup and hide it from the evil Valentine.
Typically, I am not a big reader of fantasy novels (even ones like this, which take place in a more contemporary society). And I found the reasons why I don't still prevalent in this novel. There is usually so much exposition in this kind of novel that I end up getting confused – so many strange words, weird character names, fantastical creatures, weapons… the list goes on. It's not a bad thing, I understand that the author has to build the world. It just loses me when I'm not very interested in it.
That all being said, I REALLY loved the story. I pushed myself through this book because I actually cannot wait to continue reading the series. Now I can continue on and hopefully have more adventures with the characters, and learn more about their world without it being too overwhelming. I can live more in the world of Shadowhunters rather than trying to figure it out.
Are you a fan of Clare's series? Which book is your favourite? Let me know!
City of Bones is available online at Chapters Indigo, Book Depository, and Kobo.