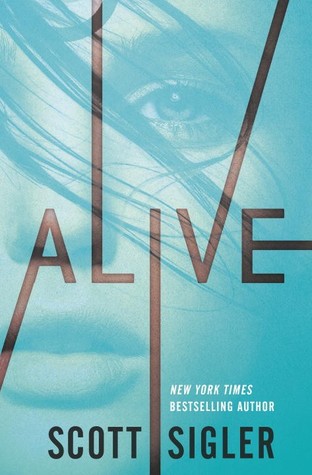 Obtained: Penguin Random House, ARC
Pages: 345
Publish date: July 14, 2015
Rating: ★★★★★
When I heard there was going to be a new young adult dystopia coming out, I wasn't sure how to feel. Yes, I'm a fan of The Hunger Games and Divergent, but I was worried this was just another band-wagon novel. But I'm a sucker for dystopian science fiction, so I of course chose to dive right in and experience Sigler's world of Alive.
Alive begins with a girl trapped in a coffin. In her hasty yet painful escape, she suddenly finds herself unable to recall who she is or what she is doing in this place. And now she's been voted leader by the others who are also in this same situation. They are fighting not only to figure out what is going on, but also simply to survive.
I can't say much else without giving things away. This entire novel was a mystery. From the minute our protagonist, M. Savage, gets out of her coffin, the clues start coming out and the reader is taken along on a journey with her and the others. The mystery is absolutely enticing. I read the first couple of pages of Alive and was instantly hooked – like not that I didn't want to put it down… I couldn't. Work tomorrow? Who cares, I need to know what happens next! 1:00AM and still reading? Whoops!
I'll try to give some more idea as to what this book is about without stepping on the mystery and ruining everything. Because honestly, the best way to go into this book is knowing absolutely NOTHING. If I could compare this book to anything, I wouldn't say Hunger Games and Divergent, as is written on the Goodreads page – I would compare it to like, Saw or Cube meets Lord of the Flies. Yes, it's a dystopia with a female protagonist, but I see no other similarities to the other YA series.
Alive is a riveting read that will have your mind racing, trying to figure out the secrets behind these characters and their whereabouts. I absolutely loved it and highly recommend it to anyone who likes to try and figure out mysteries along with the characters. All I can say is thank goodness this is also going to be a trilogy, because I need more!
Alive is available online at Chapters Indigo, Book Depository, and Kobo.