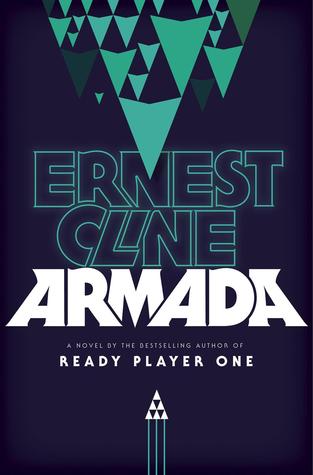 Obtained: Penguin Random House, ARC
Pages: 368
Publish date: July 14, 2015
Rating: ★★★★★
I have to admit, I haven't read Ready Player One yet. I know. But it's been on my to-read list forever, and I love science fiction. So when I saw that Cline was coming out with another novel, I jumped at the chance to read his work. And I absolutely loved it.
Armada tells the story of Zack Lightman, a high school student who is absolutely obsessed with his favourite video game – Armada. One day, as he stares out the window, daydreaming during class, he actually sees one of the ships from the video game. But he's not hallucinating. He, and many other gamers, are recruited to come together and save humanity from a terrible fate.
That's my summary because I don't want to give too much away, but that was enough to hook me right in. Armada is a super fast-paced novel that doesn't stop moving from beginning to end. It may seem like a plot mash-up of all your favourite science fiction stories, but that's built right into the plot.
If I were to compare Armada to a recent science fiction movie, I'd say it reminded me most of Guardians of the Galaxy. Littered with copious sci-fi references from all different forms of media, as well as crazy awesome 80s music references that you can hum to yourself while reading the fight scenes, Armada is witty and funny, as well as nostalgic and heartfelt.
It is a very visual book, as well, which I appreciated. If you get the hardcover copy, open up the jacket and take a look underneath for some beautiful blueprints. The final page of the book also includes a photocopy of Zack's mix CD (sort of like Star Lord's "Awesome Mix"!) – something I was waiting for the entire book, because I loved all of the songs Cline mentioned and wanted to know how to compile this playlist on my iPod.
Overall, I absolutely loved Armada. Cline introduced characters and developed their storylines at an appropriate pace, and created the perfect mix of humour, action, and emotion that will make you sad to be turning the final page.
Armada is available online at Chapters Indigo, Book Depository, and Kobo.