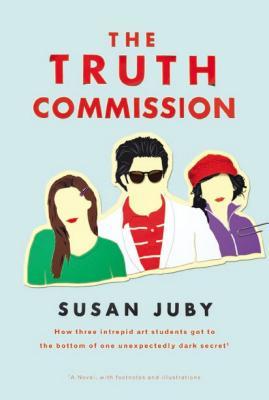 Obtained: Purchased @ Indigo
Pages: 320
Publish date: April 14, 2015
Rating: ★★★★
My friend approached me around the release date of The Truth Commission and told me, "Michelle, you have to read this book. It's such a you book." For those who don't know, I'm a huge fan of weird twists – books that seem normal but address dark and creepy issues, or things that are considered taboo. And I was eager to discover what sort of lies would be uncovered in this book.
The Truth Commission is about a group of three teenagers, Normandy, Neil and Dusk, who attend an art school in Vancouver and find that they get a wonderful feeling of connection with their classmates when people tell them their secrets. Thus the birth of "The Truth Commission". Throughout the novel, Normandy tries to hide from the dirty truths within her family that no one wants to uncover, but eventually, her curiosity gets the best of her.
Susan Juby wrote this wonderful young adult novel as a work of nonfiction composed by the protagonist; there are helpful drawings and footnotes throughout her "final project" which help address even the issue of what is true in written work. Are lies of omission in fiction lies, when you can't include every detail on the page? If you borrow facts from real life and twist them for fiction, are they lies or simply falsities for the purpose of art?
The themes Juby address in this book are more than just honesty: judgement, slut shaming, creative expression – the list goes on.
The only reason I'm not giving this book five stars is because I had my expectations too high. As I read on, I was wondering what kind of crazy secret would be uncovered, and the ending wasn't as crazy as I hoped. The novel still took a turn I didn't expect and threw me off, it just didn't shock me as much as I hoped it would.
I still think The Truth Commission is a wonderful young adult piece and recommend you read it – especially if you like reading or consider yourself creative at all. It will make you question everything artistic you consume or create.
The Truth Commission is available online at Chapters Indigo, Book Depository, and Kobo.