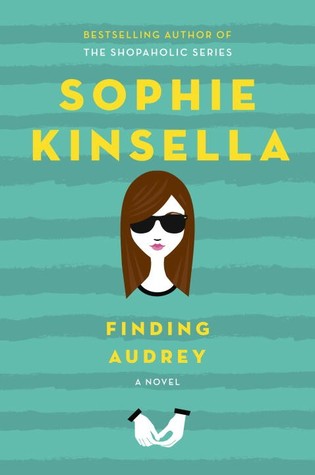 Obtained: Penguin Random House, ARC
Pages: 288
Publish date: June 9, 2015
Rating: ★★★★★
Let's preface this review with something that needs to be said: I've never read a Sophie Kinsella book before in my life. I'm not typically into books that can be described as "cute" or "girly". But when I saw this cover and was told the premise, I knew I needed it in my life.
Finding Audrey tells the story of a teenage girl who goes through a traumatic experience and ends up going through a very rough period with her mental health. She has serious social anxiety and can't leave her house, let alone go to school normally like everyone else. The story centres around Audrey's inability to socialize, as well as the goings on of her family – her brother who won't get off the video games, her mother who is obsessed with The Daily Mail.
All of the characters involved in this novel were very well-developed. My favourite thing about this book was the fact that each of these characters weren't just characters, they were people I got to know through my experience with the book. They were all very real; I particularly liked her brother, Frank, and his dialogue. It's very easy to make the girl with social anxiety be really weird, or the video game dork to be a typical nerd, but Kinsella made them each full-rounded people.
The one thing I worried about while reading this novel was that it would pull a bit of a Fault in Our Stars – that it may romanticize social anxiety and make kids wish they had this mental illness. But I felt the opposite while reading it. I have had severe social anxiety in my life and am working on getting over it, which, like Dr. Sarah tells Audrey, is a process. This book could have made me feel safe in my anxiety, but reading Audrey's reactions were very triggering and made me uncomfortable. There is no romanticism.
Finding Audrey is cute, but it is also real and accurately depicts how crippling it is to live with social anxiety. Kinsella gives the message that metal illness is still an illness that needs work to get better, but she does it in a way that is actually funny and quite entertaining.
The whole time I was reading, I didn't feel like I was reading. I was binge-watching a very well-written, imagination-based TV show and I really had to know what would happen to my favourite characters. I read this book in one sitting because it felt more like I was watching a great movie in my head and I couldn't hit pause.
Finding Audrey is available online at Chapters Indigo, Book Depository, and Kobo.