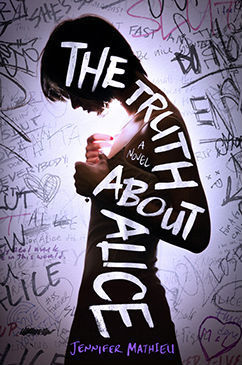 Obtained: Purchased @ Indigo
Pages: 199
Publish date: June 3, 2014
Rating: ★★★★★
I'd been looking forward to reading The Truth About Alice since before it was published, and at one point, I was really worried that I was over-hyping the book for myself, but this Boxing Day I finally got around to buying a copy and reading it, and the YA novel stands up to everything I imagined it would be.
Jennifer Mathieu's The Truth About Alice tells the story of Alice, a generally popular high school girl who slept with two boys at one party and then caused one of their deaths by texting him dirty messages while he was driving. But of course, there's only one person who knows the truth about what happened, and you don't get her perspective until the very end. Before you're treated to the real story, you are told what happened at the party and everything as a result afterward as told by the girl who hosted the party, the sexting victim's best friend, Alice's ex-best friend, and the nerdy boy next door.
This novel was everything I hoped it would be and more. It's like teen movies Easy A or Mean Girls, but instead of finding something to laugh at, Mathieu portrays the teen drama as what it really is: horrible, life-changing bullying. It's not something to laugh at. It's not something that ends by graduation. Bullying and rumours are something not so easily forgiven as in the movies.
As for style, I loved the writing. I thought that Mathieu did a wonderful job at writing with the different voices of each individual character. The dialogue and their narrations felt real to me as I read, very unlike a lot of YA I've read recently where the characters seem too smart for their own good. The characters each had their own voice and style, without being totally unrealistic.
If you're looking for a good, quick YA read, I highly recommend The Truth About Alice – it's one of my favourite books I've read this year.