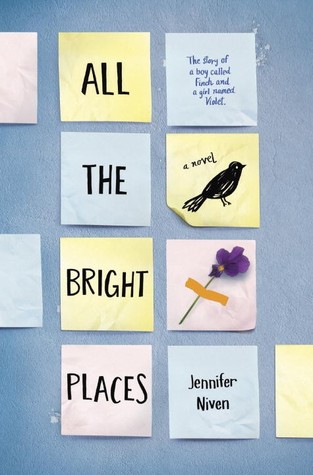 Obtained: Penguin Random House, ARC
Pages: 388
Publish date: January 6, 2015
Rating: ★★★★
The minute I read the summary of Jennifer Niven's recent addition to the young adult shelves, I knew it was a read I could not pass up. The minute I started to read, I knew I'd have trouble putting it down. And the minute I finished reading this book, I stared at the wall for a moment and uttered the words, "How dare you, Jennifer Niven".
If you have any hesitations, it was a good "how dare you" – I swear.
All the Bright Places follows the story of this unlikely friendship that develops between Violet and Finch, high school students who both suffer their own mental disabilities. The two pair up for a school project which has them travelling the state looking for little wonders – a project which has these depressed individuals searching for things that make life worth it.
This book was a wonderful mix of themes from some of my favourite films and novels, creating a very moving story of two incredibly believable characters. It reminded me of The Breakfast Club, The Perks of Being a Wallflower, with a little bit of last year's YA novel, Say What You Will. Misunderstood characters who find each other when they need another person most.
There was a highlight of how misunderstood not only these characters are, but the severe nature of their anxieties. I loved the emphasis Niven placed on how debilitating these problems are, and how quickly people are to sweep them under the rug. It's an issue that is very close to me, and seeing it so well projected in this book made me cry on several occasions – good tears, I swear.
On a lighter note, I also enjoyed reading a YA novel that didn't star overly geeky characters. I don't know if it's just the novels I've been reading recently, which I wouldn't doubt because I normally enjoy reading about people like me (hello fellow geek community!), but I've been seeing a trend of nerdy leading guys and girls in books, and it was nice to read about fairly normal, well-balanced characters who aren't a walking stereotype.
My heart broke when I was finished reading about Finch and Violet. I didn't want them to be out of my life so soon. That's how much I loved All the Bright Places.