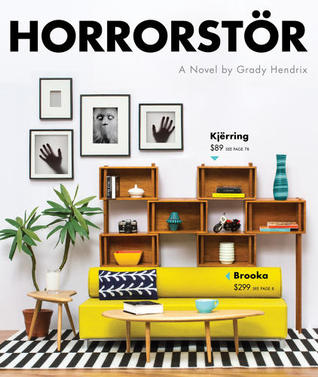 Obtained: Quirk Books, ARC
Pages: 246
Publish date: September 23, 2014
Rating: ★★★★★
I saw Horrorstor at a bookstore, and I immediately fell for the cover. I love experimental and realistic images, and the fact that this cover mimicked that of an IKEA catalogue really drew me in. Quirk Books sent me an advanced readers copy, and I couldn't wait to dive right in, with no idea what to really expect. It was horror, it was quirky, and that was good enough reason to put this book at the top of my priority list.
Grady Hendrix's Horrorstor follows the story of Amy, a woman who works at an IKEA imitation store called Orsk, and who is terrified of losing her job before she's allowed to transfer to another store. When her boss, Basil, calls her into his office, she thinks she's fired, but instead he asks her to accompany him on a special mission: stay overnight at Orsk to help him uncover the secret behind who is vandalizing the store after everyone goes home.
Horrorstor is a classic scary story in a modern setting, which makes it all the more frightening. I don't know about you, but when I watch a scary movie set in a cabin hidden in the woods, or an abandoned building, I don't feel that scared because I never see myself being in that situation. But I work retail in a superstore, so reading this book really hit home for me. I will never work overnights, that's for sure.
Overall, I really, really enjoyed this book. It's witty, satirical, and goose-bump-inducing. One of my favourites of the year. It's not a long read at all, either. The catalogue feel goes all the way through the book, and the visuals really support the text. If you have time to sit down and read a quick book, I really recommend this one.