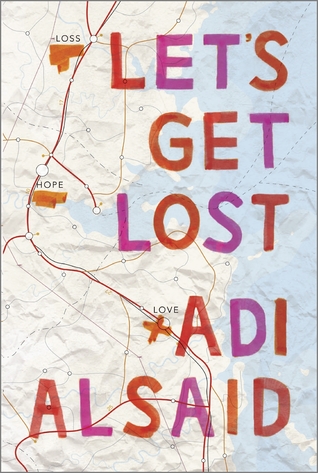 Obtained: Purchased @ Target Canada
Pages: 352
Publish date: July 29, 2014
Rating: ★★★★★
This book caught me straight from the cover, how could it not? It looks like a scrapbook from the mind of a teenager with immense wanderlust. And that's what captured me. The reviews on the back of the book compare Alsaid's Let's Get Lost to John Green's Paper Towns, and I can definitely see the comparison, not only in themes but in the style of writing itself. That being said, I quite preferred Alsaid's novel to that of Green's simply because of the fact that this entire novel pushed forward at every moment, driving both the plot and my interest in Leila's all-over-bright red-car.
Let's Get Lost follows Leila on her solo, road trip mission to see the Northern Lights. But instead of giving us 300 pages of Leila, Alsaid gives us her journey from the perspectives of Hudson, Bree, Elliot, and Sonia. As the reader moves through the book, he sees how these four characters interact with Leila and their individual missions she helps them to overcome. Hudson is the first one we meet, as he is one of the mechanics Leila runs into – showing her the little treasures of his town. She later picks up Bree, a hitchhiker, hoping to get as far away from home as possible. After which, she nearly hits a drunken Elliot who has wandered his way into the road over a devastating prom heartbreak. And Leila is able to help Sonia sneak back into Canada to provide her second family with the misplaced wedding rings before we finally get the insight to Leila herself.
I loved the way this book was written – it kept the mystery that was Leila and the true purpose behind her journey to Alaska to see the Northern Lights, and the mini-adventures along the way were totally something out of a John Green novel. Alsaid was able to maintain his story's charm throughout the book and keep me hanging on every word. I felt like I was there through every hardship. I also loved how the theme of getting lost meant something different to each person she runs into – sometimes getting lost means having to find your way home again, other times it means losing yourself in the moment to achieve something greater for your life.
Overall, I'd definitely say that Let's Get Lost is one of the best YA novels I've read in a very long time, and I highly recommend it.