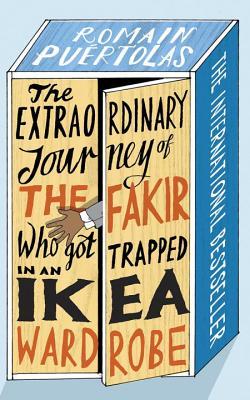 Obtained: Random House, ARC
Pages: 320
Publish date: August 5, 2014
Rating: ★★★★
Never before this book had I heard of Romain Puertolas, but after I turned the last page, I immediately wanted to search for more of his work. This book, with a title as wacky as its twisting plotlines, came to me as an advanced reader's copy in the mail. And I couldn't wait to delve into the depths of its promising pages.
The Extraordinary Journey to which this breath-taking (literally!) title refers, is that of Ajatashatru Oghash Rathod – a fakir from India who has spent his life using magic and deceit to get by in life. One day, he travels to Paris in search of the nearest IKEA so he can purchase a bed of nails to further deceive the people in his village, but on this quest, he ends up having to hide in one of the wardrobes and ends up getting shipped away from his newfound Frenchwoman friend – around Europe.
My summary of the story does it little justice. I found I was constantly wanting to know more about Aja and what crazy shenanigans he would be up to next. I couldn't put it down. The very short chapters made this novel seemingly effortless to breeze through as well, which is always a plus. I loved the themes covered in this novel – those of adventure, romance, morality, and tolerance. I was lucky enough to grow up in a neighbourhood full of diverse culture, so to be honest, the lesson of tolerance kind of went over my head. It all seemed natural to me; I didn't consider the fact that people were judging Aja based on his ethnicity until he makes reference to being the only Indian on the plane and everyone must have thought he was a terrorist.
This is only one of the many examples of Puertolas's charming sense of satirical humour. It reminded me very much of reading Adams's Hitchhiker's Guide to the Galaxy, in that respect – using travel and witty parody to satirize our own society and what we choose to value.
Overall, I had a great time reading this book, and I'd definitely recommend it as a quick and entertaining read!